井冈山精神
滔滔赣江,巍巍井冈。
It's on this red land, featured with surging Gan River and towering Jinggang Mountains,
在这片红色土地上,
以毛泽东为代表的中国共产党人点燃了革命的星星之火,
that the Chinese Communists
represented by Mao Zedong lit the spark of revolution,
为中国革命开辟出一条成功之路,
培育出薪火相传的井冈山精神。
opened a path of success for the Chinese revolution
and fostered the Jinggangshan Spirit which passed down from generation to generation.
2016年2月,
习近平总书记来到江西看望慰问广大干部群众,
首站就是"中国革命的摇篮"——井冈山。
In February 2016,
General Secretary Xi Jinping visited Jiangxi
and his first leg was Jinggangshan - "the cradle of the Chinese revolution".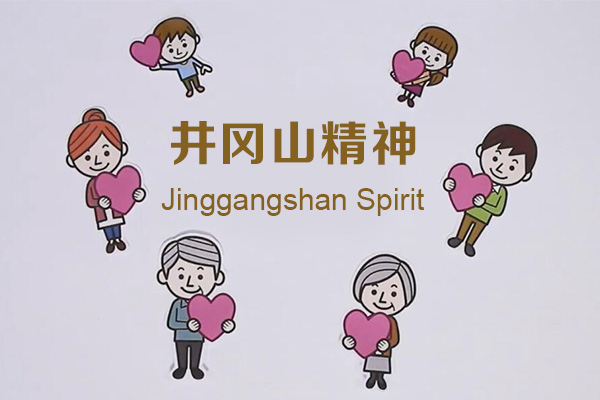 到底什么是井冈山精神呢?

What excatly is Jinggangshan Spirit?
"今天,我们要结合新的时代条件,
"Today, under the new circumstances of this age,
坚持坚定执着追理想、实事求是闯新路、
we must persist in following our ideals resolutely, blazing new trail in a down-to-earth manner,
艰苦奋斗攻难关、依靠群众求胜利,
overcoming difficulties with our hard work and relying on the masses for our victory,
让井冈山精神放射出新的时代光芒。"
so that the Jinggangshan Spirit will glitter with the glory of the new era."
习近平总书记铿锵有力的话语,
General Secretary Xi Jinping interpreted the profound connotation
深刻诠释了井冈山精神的核心内涵。
of Jinggangshan Spirit with his strong words.
此前,习近平也曾两次登上井冈山。
Previously, Xi Jinping ascended the peak of Jinggang Mountains twice.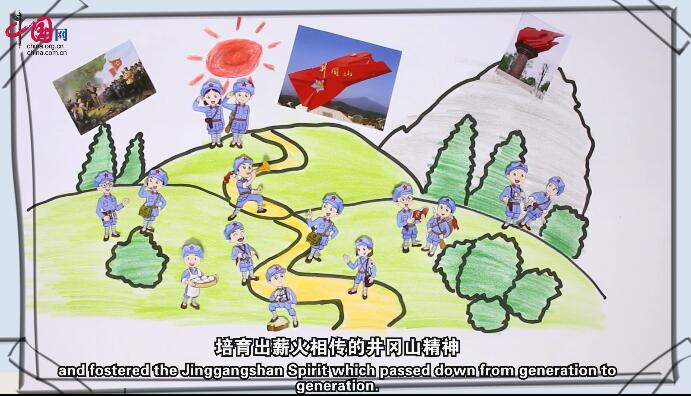 2006年3月,

In March 2006,
时任浙江省委书记的习近平
Xi Jinping, Party Secretary of Zhejiang Province,
率领浙江省党政代表团,
led the CPCandgovernment delegation from Zhejiang province
"到江西这块红土地上接受革命传统
to the red land of Jiangxi province to study the revolutionary tradition,
特别是井冈山精神的教育"。
especially the Jinggangshan Spirit.
2008年10月,
In October 2008,
时任中共中央政治局常委、
Xi Jinping, Member of Standing Committee of Political Bureau of CPC Central Committee,
中央书记处书记、
Secretary of CPC Central Secretariat
国家副主席的习近平
and Vice President of China,
在江西调研考察期间,
made a special trip to Jinggangshan
专程到井冈山瞻仰了茨坪革命旧居旧址群
and visited the Ciping Revolutionary Residence Site
并参观了井冈山革命博物馆。
and the Jinggangshan Revolutionary Museum during his inspection tour to Jiangxi.
2016年2月,第三次登上八百里井冈,
In February 2016, when asended the peak of the magnificent Jinggang Mountains for the third time,
"井冈山时期留给我们最为宝贵的财富,
就是跨越时空的井冈山精神。"习近平总书记深情地说。
Secretary General Xi Jinping said emotionally, "The most precious heritage of the Jinggangshan period is the Jinggangshan Spirit
which transcends the limits of time and space."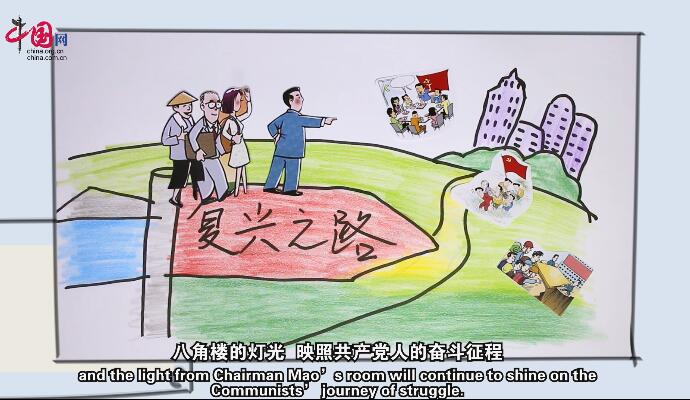 行程万里,不忘初心。

The debilitating and deadly long march didn't stop us from pursuing our original goal.
井冈山的山间小路,通往民族复兴的康庄大道;
The path on the Jinggang Mountains will lead us to the broad way of China's great rejuvenation
八角楼的灯光,映照共产党人的奋斗征程。
and the light from Chairman Mao's room will continue to shine on the Communists' journey of struggle.
在新时代,
In the new era,
我们要紧密团结在以习近平同志为核心的党中央周围,
we shall closely unite around the CPC Central Committee with Comrade Xi Jinping as the core,
让井冈山精神放射出新的光芒,
let the Jinggangshan Spirit shine brighter,
指引我们传承红色基因、
guide us to inherit the red genes
激发奋进力量,在决胜全面小康、
and inspire us to forge ahead in the critical phase of the new journey of building an all-round well-off society,
实现中国梦的新征程上脚踏实地、砥砺前行,
realizing the China dream in a down-to-earth manner despite all the difficulties,
不断把为人民造福的事业推向前进。
and constantly push forward the cause of benefiting the people.