.
2014年8月6日,习近平总书记就川藏、青藏公路通车60周年作出重要批示,
On August 6, 2014, General Secretary Xi Jinping issued important instructions on the 60th anniversary of the opening of Sichuan-Tibet and Qinghai-Tibet Highways,
要求进一步弘扬"两路"精神,助推西藏发展。
calling for further promotion of the "two roads" spirit to boost the development of Tibet.
习近平总书记指出:在高原上工作,最稀缺的是氧气,最宝贵的是精神。
General Secretary Xi Jinping pointed out that for those who work on the plateau, the scarcest thing is oxygen, and spirit is the most precious.
新形势下,要继续弘扬"两路"精神,养好两路,保障畅通,
Under the new circumstances, the "two roads" spirit still need to be carried forward to maintain the Sichuan-Tibet and Qinghai-Tibet Highways and ensure smooth traffic,
使川藏、青藏公路始终成为民族团结之路、西藏文明进步之路、西藏各族同胞共同富裕之路。
making them always the road of national unity, civilization and progress in Tibet, as well as common prosperity for people of all ethnic groups in Tibet.
两路,即川藏公路、青藏公路,建设在"人类生命禁区",
Built in the "human life forbidden zone", the two roads, namely the Sichuan-Tibet Highway and the Qinghai-Tibet Highway,
在建设和养护川藏、青藏公路的过程中,形成和发扬了
In the process of building and maintaining the two roads, the "two roads" spirit was formed and carried forward,
一不怕苦、二不怕死,
which can be interpreted as the willpower to face adversity and death courageously,
顽强拼搏、甘当路石,
the persistence to make utmost endeavors, the willingness to sacrifice personal interests for the great undertaking,
军民一家、民族团结的"两路"精神。
harmonious relations between the army and the people, and unity of all ethnic groups.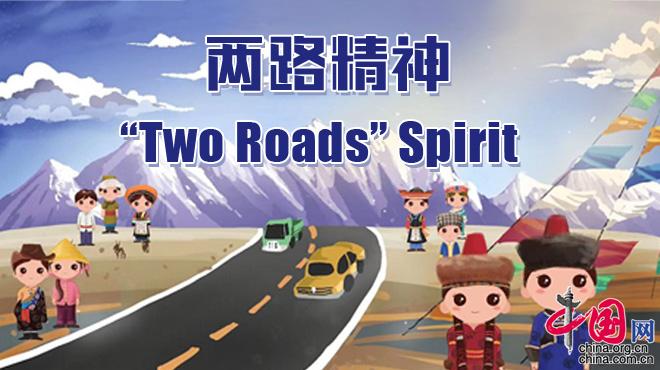 1954年5月11日,千里青藏公路在青海格尔木破土动工,
On May 11, 1954, the thousand-mile Qinghai-Tibet Highway broke ground in Golmud, Qinghai Province.
当时修建青藏公路的组织者和指挥者是慕生忠将军,
The organizer and commander then was General Mu Shengzhong,
他的建设队伍只有一个工程师,1200名由驼工转为筑路工的民工,
a building team of only 1 engineer and 1200 builders who were camel workers before,
1200多件笨重的铁锨、镐头、钢钎、大锤之类的原始工具。
over 1200 bulky tools such as shovels, picks, drilling steels and primitive.
他们为了给百万翻身农奴造福,
In order to benefit millions of emancipated serfs,
为了让和平解放的新西藏各项事业获得发展,
and to develop the new cause in New Tibet after peaceful liberation,
以千难万险无阻挡的大无畏精神,创造了人间奇迹,
they created a miracle with undaunted spirit
到1954年12月15日,就把青藏公路胜利修到了拉萨。
to extend the Qinghai-Tibet Highway to Lhasa on December 15, 1954.
12日25日在拉萨召开青藏公路和康藏公路通车庆祝典礼大会,藏族同胞倾城出动,
On December 25, the opening ceremony of the Qinghai-Tibet Highway and the Sichuan-Tibet Highway was held in Lhasa, attracting all the Tibetan compatriots there.
人们望着披红戴花的汽车,高兴得热泪挥洒。
Looking at the vehicles with red ribbons and flowers, they wept for joy.
藏族人民盛赞两条公路是"金色的飘带"、"幸福的金桥"、"五彩放光的路"。
The Tibetan people praised the two highways as "golden ribbons", "golden bridges that bring happiness" and "colorful and shining roads".
没有比人更高的山,没有比脚更长的路。
Mountain never dwarfs man while course never conquers feet.
"两路"精神是公路建设者崇高品质的真实反映和高度概括,
The "two roads" spirit, reflecting and summarizing the lofty quality of highway builders,
集中展现了一代又一代"两路"人的精神风尚和行为范式,
depicts the spiritual mode and behavior paradigm of generations of those who devote to the two highways,
是宝贵的精神财富。
and is a precious spiritual wealth
"两路"精神的传承在于铭记,而最好的铭记就是践行。
The core of inheriting the "two roads" spirit lies in remembering, which can be best demonstrated by practice.
新时代,我们需要继续弘扬"两路精神",
In the new era, the "two roads" spirit still need to be carried forward.
不驰于空想,不骛于虚声,
We should avoid the distractions of unsubstantial ideas and superficial fame,
脚踏实地在各自的岗位上努力奋斗,在生活中传递正能量,无私奉献,
work hard with a firm footing, and deliver positive energy and the spirit of selfless dedication in life,
用爱与热心建设人生美好的未来、筑就祖国的繁荣昌盛。
so as to build a beautiful future and prosperous China with love and enthusiasm.